Welcome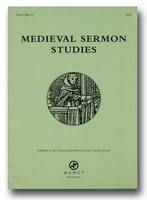 The International Medieval Sermon Studies Society (IMSSS) promotes and fosters the study of medieval sermons and preaching in Latin and the vernacular languages within their social, literary, religious, intellectual, theological, catechetical, political and historical contexts.
The Society also promotes and fosters the study of various artes praedicandi, and theories of preaching derived from them, as well as material used by sermon writers (e.g., Florilegia, commentaries, etc.).
For more information, please see About IMSSS. 
Join the discussion on our mailing list (members only) and in our Facebook group
23rd Symposium University of St. Thomas, St. Paul MN, USA , from Jul 15 to Jul 19, 2022
Registration is Now Open 
N.B. Registration should be conducted on a computer rather than a smartphone.  
This conference has been made possible by the support of the University of St. Thomas, the IMSSS, the University of Antwerp, and the University of Freiburg.  
This will be a hybrid event. June 30 is the deadline for in person registration.  
Here is the Final Program
Here is information for in person participants.
Here are the Abstracts.
Here are publisher discounts: for Brepols and for Brill.
Here is the information for registrants only. You will need the login credentials you were provided by the conference organizers.