Welcome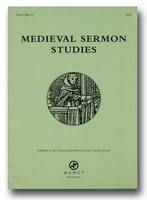 The International Medieval Sermon Studies Society (IMSSS) promotes and fosters the study of medieval sermons and preaching in Latin and the vernacular languages within their social, literary, religious, intellectual, theological, catechetical, political and historical contexts.
The Society also promotes and fosters the study of various artes praedicandi, and theories of preaching derived from them, as well as material used by sermon writers (e.g., Florilegia, commentaries, etc.).
For more information, please see About IMSSS. 
Join the discussion on our mailing list (members only) and in our Facebook group
from May 11, 2023 08:00 AM to May 13, 2023 05:00 PM
—

Kalamazoo, Michigan

,
"The 58th International Congress on Medieval Studies takes place in a hybrid format Thursday, May 11, through Saturday, May 13, 2023."